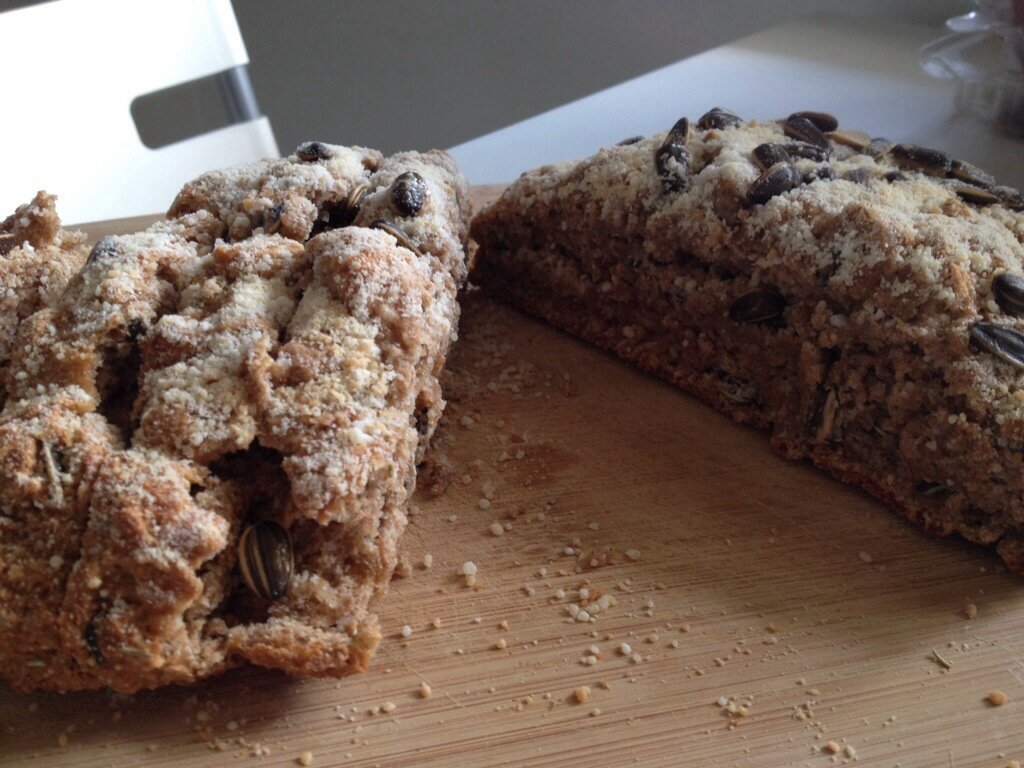 Baking Bread
I have always been intimidated by the idea of baking bread, though I love the coziness and warmth of the idea. Bread is also one of those things that annoys me about buying food — I try not to buy bread with lots of preservatives and chemicals, but it's super-hard to find really simple, artisanal breads in my town without driving all over the place. And so I don't often buy it, unless I'm craving a sandwich. (But let's be honest, I don't crave sandwiches…I crave mac & cheese and French fries!) But recently I decided to make my own bread and it turned out quite nice! I'll be sharing the recipe soon with everyone, once I've made it a few times and figured out my own customization on it! But yay to baking bread!
Zumba
If you ever told me when I was a teenager that I would be hanging out with my sisters, getting pedicures and going to exercise classes with them as an adult, I would've thought you were just insane, because my sisters and I were nothing alike…and they were my little sisters. But my sisters are pretty much my best girlfriends now, which is kind of an awesome thing for sisters to be. Of all the humans in my life, I'll probably know my sisters the longest — all the way from our childhoods into our old ages, if we are lucky. And that struck me as a very profound thing, because that makes them one of the more significant relationships in our lives, even though if I'm honest with myself, my relationships with my sisters are the ones I take for granted the most — perhaps because I know they will be there and we are stuck with each other. So I'm trying to be as intentional and mindful of my relationships with them as I am with my sweetheart.
Anyway, I do see my sisters quite a bit over the week, and I've been on this kick to get them to exercise and be healthier in general. One of them is a working mom of three, so between the kiddos and her job, it's hard to even get her in the gym in the first place, and she's not so enthused about cardio. She showed some interest in Zumba, so I said I'd go to one with her, even if just to get her to exercise. And it was kind of awesome because it was fun to dance, but also kind of weird, because WHY IS EVERYONE ALWAYS SO WHOO-HOO AND SHOUTING? It's like a cult! I seriously thought the instructor was high on coke or something. I did think the dancing and energy overall was fun, so maybe we'll go again, and it's a nice way to prevent dreadmill by shaking things up a bit — literally.
Not Making My Bed
All my life, I've been taught to make my bed every morning. It's just part of the morning routine. I don't even think I can remember the last time I didn't make my bed! I even make it when I'm on vacation and staying at a hotel, that's how ingrained the habit is. It is just one of those things that I do, I guess, pretty much automatic. And for the most part, it is one of those tiny things I do in my life to feel like I had a good day — the logic being, "Well, today I didn't do this or that, but at least I made my bed!" And it's a nice feeling to peek into the bedroom during the day and see a nicely made bed, kind of calming and harmonious and orderly.
But this weekend I told myself I was just going to relax and not crazy-work myself. I've been sort of running on empty and need at least one day to chill out, be a lazy bastard and just read, sleep, rest and lounge around. Sadly, it's a lot harder than it seems sometimes — the compulsion to get something done never quite goes away. But funnily enough, not making my bed today helps. It's always there, waiting to be climbed back into, a nice nest to read, sleep, dream and relax in. And so I haven't done a lot today, but I have mellowed out nicely — of course, ironically the minute I get all chill and relaxed-feeling, I decide to blog! Bah! Enough of that…I've got an unmade bed waiting for me, and a copy of Marisha Pessl's Night Film waiting to be read. Hope you're all having a good weekend!
Like what you just read? Maybe you'll like my book as well
All Things Glorious and True: Love Letters to Pop Culture, New York, Fashion and Other Objects of Affection is a collection of essays exploring how my crushes on music, dive bars, books, outfits and so much else gave me a braver soul, more open heart and even love. All Things is like a great, stylish mixtape: surprising, kind of punky, fun and often heartfelt.
---->
Tags: baking, beds, bread, relaxing