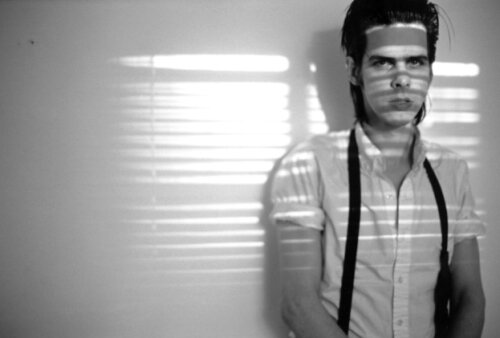 Inspiration is a word used by people who aren't really doing anything. I go into my office every day that I'm in Brighton and work. Whether I feel like it or not is irrelevant.

– Nick Cave
I've always been fascinated by songwriters and how they work. Of all the writing crafts, making songs seems most like bottling lightning, requiring all kinds of courting of the muses. But it's intriguing to know when musicians treat it like a trade or a daily routine, like some normal thing like brushing teeth or working out. I'm especially intrigued by rock stars as sort of everyday journeyman types, because the whole rock 'n roll archetype is so Dionysian, so soaked in alcohol, sex and late nights. It's antithetical to the everyday "get it done" stoicism of the working person, right?
And yet here is Nick Cave going to the office everyday to work like a regular 9-to-5 bloke! There's something really humble and endearing about it, but beyond the up-ending of the whole rock-star inspiration model, it's good to know that his longevity and growth as an artist have come with a very deliberate ethos of hard work and discipline. Which of course sounds so Puritan, and yet if it pays off, then how can you argue?
Of course, there's something about his work that reflects a very deliberate, crafted quality, right down to his literary lyrics. His music hasn't had that "Wow, we came up with this craaaaazzzzzy shit while banging around in a rehearsal room" quality since perhaps the Birthday Party or early Bad Seeds — or, okay, the Grinderman stuff, but I wasn't super-fond of that so I kind of blocked it from my mind. You can argue whether or not his music's the better or worse for it, but I love that he keeps going, making weird shit and being as dark and perverse as ever. I've sort of more and more interested now in how artists, and particularly musicians, retain their sense of artistry long after the energy of youth wears off, and so it's weird and lovely to know that Nick treats it like a trade or craft that he kind of just does, like it's no big deal, no black magic…just hard work and getting it done.
And I love the Cave approach because it's a great lesson to learn as a productive artist: you can't just sit around and wait for the muse to hit you with a shot of inspiration. You have to just sit down and do it, and even if nothing comes, maybe something will the next day, or the day after. I'm not really someone who is all "I MUST WRITE EVERYDAY" but I do try to do something to keep the wheels greased, whether it's making notes, stabbing an attempt at a paragraph or outlining. I don't have an office, but I do write something everyday, even if it's not the things I feel I should be writing.
It's a lot more humbling in a way to work this way, because I don't just write when I feel all genius and inspired — I learn that I write shit and shit is a normal part of the process, and i don't feel "blocked" when it happens. Shit happens to all writers. But you just go on and do something, and do something, and do something again…and then you pass through the shit phase into something that helps you remember why you love to write or create in the first place. At least, that's my story, and I'm sticking to it. And sticking to it. And sticking to it.